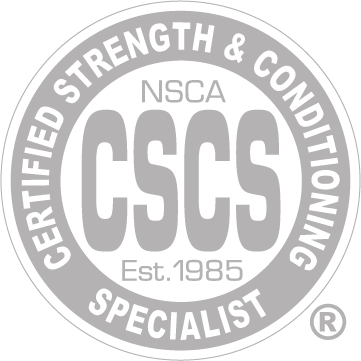 Scott Lahey
Qualifications and Certifications:
Bachelor of Kinesiology (University of Calgary 1998-2003)

Certified Strength and Conditioning Specialist (National Strength and Conditioning Association)

Functional Range Conditioning Mobility Specialist (Functional Anatomy Seminars)

Functional Movement Screen Level 2 (Functional Movement Systems)

Titleist Performance Institute Golf Fitness Specialist (Titleist Performance Institute)

Precision Nutrition Certified Coach (Precision Nutrition)

EXOS (formerly Athletes' Performance) Performance Specialist Mentorship (EXOS)

Strength and Power Performance Mentorship (Canadian Sport Institute)

Intrinsic Coaching Certification (EduCoach)

Herrmann Brain Dominance Instrument Certified Practitioner (HBDI)
My Story:
I was born and raised in Chatham, Ontario, and moved to Calgary, Alberta in 1998 to study Kinesiology and to compete on the Men's Volleyball Team at the University of Calgary. During this time, I earned scholarships, enjoyed many volleyball successes, academic All-Canadian student/athlete awards, and Dean's List honours. Immediately after completing my undergraduate degree in 2003, I focused my time and energy on athletic strength and conditioning, receiving a Certified Strength and Conditioning Specialist designation from the National Strength and Conditioning Association (a designation I still maintain today). I was able to leverage this education to begin a part-time career as a personal trainer and athlete development coach (working with various sports teams, athletes, and private fitness clients), while being able to coach U17/18 club volleyball and to pursue my own passion for sport as a beach volleyball player. I was lucky enough to be part of two National Championship-winning teams, one as an Assistant Coach (U17 Cal-air volleyball club) and one as a Strength Coach (University of Calgary Men's Volleyball). My beach volleyball career allowed me to compete regionally (winning several Provincial Championships), nationally (playing in several National Championships and Pro events throughout the country, highlighted by winning a silver medal in the 2006 Canadian Beach Volleyball Championships), and internationally (competing in 2007 on the FIVB World Tour in China, Finland, Croatia, Switzerland, and Montreal).
My experience as an athlete (receiving both quality and not-so-quality coaching), and as a coach myself, helped me to recognize the importance of not only acquiring the knowledge needed to thrive in the health and fitness world, but also the skills needed to transfer this knowledge to my clients. Fortunately, it was during this time that I began to be influenced by Bob Johnson (President of Leadersearch Executive Coaching Group), who inspired me to turn my attention towards Intrinsic Coaching and deeper, personal development. I immersed myself in the field (while still working with committed personal training clients) and in a short time received an Intrinsic Coaching Certificate, certifications in the Herrmann Brain Dominance Instrument (HBDI), completion of Core Integral (a course on Integral Theory), and developed a consulting relationship with Leadersearch Executive Coaching Group for whom I have co-facilitated dozens of leadership and personal/team development workshops. I continue to be inspired as much by how the mind works as by how the body works, reading everything I can in the fields of neuroscience, behavioural/change psychology, personality science etc. Each of these unique influences, learnings, and experiences have had a profound impact on my personal and professional development and culminated in the creation of my company, Playfit Health and Performance Inc.
Playfit Health and Performance Inc. was founded in 2009 and continues to evolve as I do. I understand that in order to enjoy moving often, with high performance, we first need to learn how to move well, with high precision. With a Level 2 certification in the Functional Movement Screen, a certification as a Functional Range Conditioning Mobility Specialist, mentorship course completions at EXOS (formerly Athletes' Performance Institute) and the Canadian Sport Institute, and the addition of a nutrition certification from Precision Nutrition, I believe I am uniquely qualified to inspire and influence Calgarians of all ages looking to improve how they look, feel, and function. In addition, I am Titleist Performance Institute Certified as a Golf Fitness Specialist and am working with Dynamic Motion Golf Performance Inc. to deliver some of Calgary's best integrated golf performance (fitness training and instruction) programs and services (www.dmgolfperformance.com). Through careful screening and assessment procedures, I am able to analyze how physical limitations in a player's body can adversely affect the golf swing (and many other athletic movements), and how to address those limitations to improve performance and reduce the risk of injury. As a result of this specialized education in functional movement systems, nutrition, and personal development coaching, I am able to help a wide range of clientele develop and improve their physical and psychological health and performance.
I currently reside in south Calgary with my wife Megan and two amazing, rapidly growing and developing girls, Reese and Isabel. I am pretty much a "dance dad" now and couldn't be more proud of the graceful athletes and human beings they are becoming.